Service

Expert German Vehicle Repair & Servicing in Denver, CO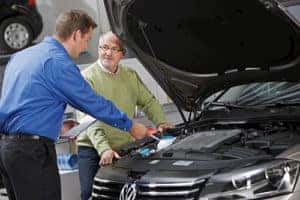 Emich Automotive effectively services all vehicle makes and models at our Denver, Colorado service center.  However, we specialize in maintenance or repair of German vehicle makes. Service your Audi, BMW, Mercedes-Benz, Porsche or VW with us for repair and scheduled maintenance you can trust at an affordable price. We have a team of qualified, knowledgeable service technicians experienced in the intricacies of a German vehicle.  From oil changes and tire rotations to brake pads or transmission repairs, we've got factory trained technicians who are eager to help. We can perform all scheduled maintenance and repairs on your vehicle using the latest technology available in our state-of-the-art facility.
Mercedes – BMW & Mini – Audi – VW – Porsche Service Center
German vehicles are known to have unique maintenance requirements that may be different from their American counterparts.  Our technicians work with these cars, crossovers and SUVs every day and know what is needed to fix or maintain them correctly.  Even simple maintenance, like an oil change in a German vehicle, can be an issue if you do not use the correct oil.  This knowledge is essential to the longevity and performance of your vehicle.
We specialize in the five major German brands: Mercedes service, repair, and maintenance. BMW & Mini service, repair, and maintenance. Porsche service, repair, and maintenance. Audi service, repair, and maintenance. Volkswagen service, repair, and maintenance. Our team now also includes the expertise of Jeremy Zobjeck, formerly of G&G's Import Auto Center in Denver, CO.  Jeremy and our crew of certified German auto specialists are here to serve you!
Please use the buttons below to schedule service at our dealership or contact our Service Department. You can also call us at 888-994-0315.